Traffic and parking
Latest news
An update on the plans for improving road safety in the High Street can be found in a Henley Standard report of 15th February 2021. This mentions bollard trials in the lower narrows, a possible pedestrian crossing at the Greyhound, and a 20mph limit. This covers the same areas of discussion covered by minutes of parish council meetings.
https://www.henleystandard.co.uk/news/whitchurch/159284/pedestrian-crossing-and-bollards-to-improve-safety.html
An Extraordinary Meeting of the Parish Council was held on 1st October 2020 to discuss traffic and parking and the future of TAPAG. The minutes are available.

A second informal consultation was held on line on Thursday 3rd September 2020. The minutes are available.
TAPAG released three briefing documents prior to the meeting. They can be consulted here:
Another document released is entitled The effect of Pollution on Respiratory Health and Spread of Covid 19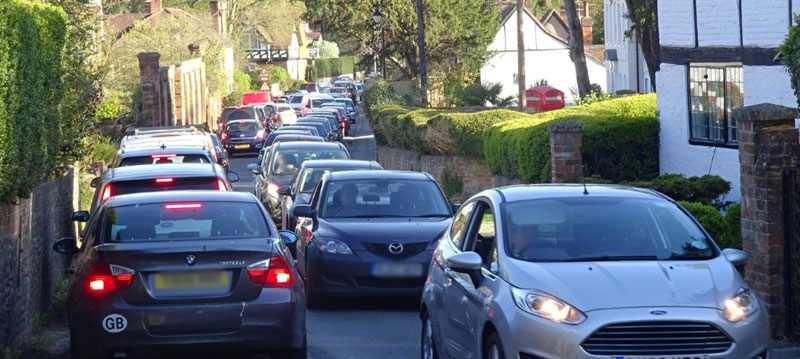 TAPAG
The Traffic and Parking Action Group (TAPAG) is advising the Parish Council on ways to solve the problem. Its Terms of Reference were adopted in September 2019 and updated in April 2021. The members of the group are listed on the Points of Contact page. It is an advisory working group rather than a parish council committee and therefore its meetings are not open to the public, nor its minutes circulated beyond the Parish Council.
A recent update is available in the approved version of the
Minutes of the Parish Council
meeting of 9th July 2020.
Background
In recent years the connected problems of traffic congestion in the High Street and unregulated parking have become of increasing concern. The issue was listed as the No 1 priority for residents consulted in the 2019 Village Plan: "1. Manage parking better to improve traffic flow, without making parking more difficult for residents (yellow lines, parking bays, residents parking)".
Following a traffic study and discussions with OCC Highways an outline plan was produced by TAPAG. The options were then assessed by MODE Consultants. An Open Day was held in the Village Hall in 2019, to present the proposals to residents. The display boards included plans showing the locations of double yellow lines and parking bays. Residents were invited to approve or comment. Subsequently a number of objectors met and submitted further comments.