Find us / Contact us
Location
Whitchurch is on the north bank of the Thames, about five miles west of Reading. The postcode for The Greyhound, in the centre of the village, is RG8 7EL.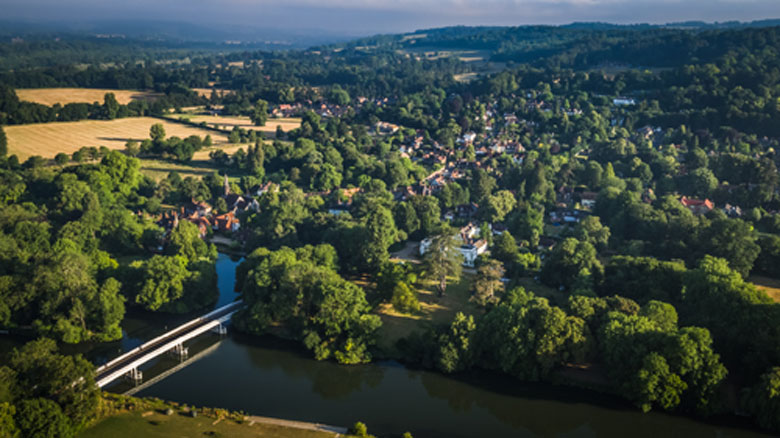 (Aerial photo reproduced by permission of Dave Olinski, taken 29th June 2018. Click to enlarge)
Maps and views
Detailed map of the parish of Whitchurch, showing the Conservation Area
This SODC website shows house names and numbers - go to Whitchurch and zoom in by double-clicking repeatedly
Whitchurch from the air, a short film of Whitchurch and Pangbourne taken in February 2015
Painted map, illustrator Candida Kennedy's creative aerial view shows Whitchurch among its neighbours. Copyright, but obtainable here
Hardwick Estate map, shows permissive paths as well as public rights of way
Historic Maps
Historic Map of 1800, part of a land enclosure map from the Oxfordshire History Centre
Historic map of 1761 by John Rocque – with comments on interesting features
Side-by-side historic map comparison website
Website
This community website is managed by a team of volunteers. It is independent of Whitchurch Parish Council but cooperates with it to display many pages of council information. It is hosted by SiteSpider Services by courtesy of Phil Weir. The Parish Council has no responsibility for material appearing on the site or on sites linked with it. To see the Privacy Policy or the Accessibility Statement for the website click on the links at the foot of the page.
At the 2020 Village Annual Assembly, the Whitchurch Web team presented a report.
Contact us
The Whitchurch Web team welcomes contributions from all members of the community. Here are the contact details:
To send news, photographs or general comments - email the News Editor, Richard Wingfield
To send information on future events - email the Events Editor, Pam Scott
To send information for updating of pages - email the Page Editor, Hilary Jensen
The team also includes Nature Editor Sally Woolhouse and Photographer-at-large Nick Brazil.