Eric's walks around Whitchurch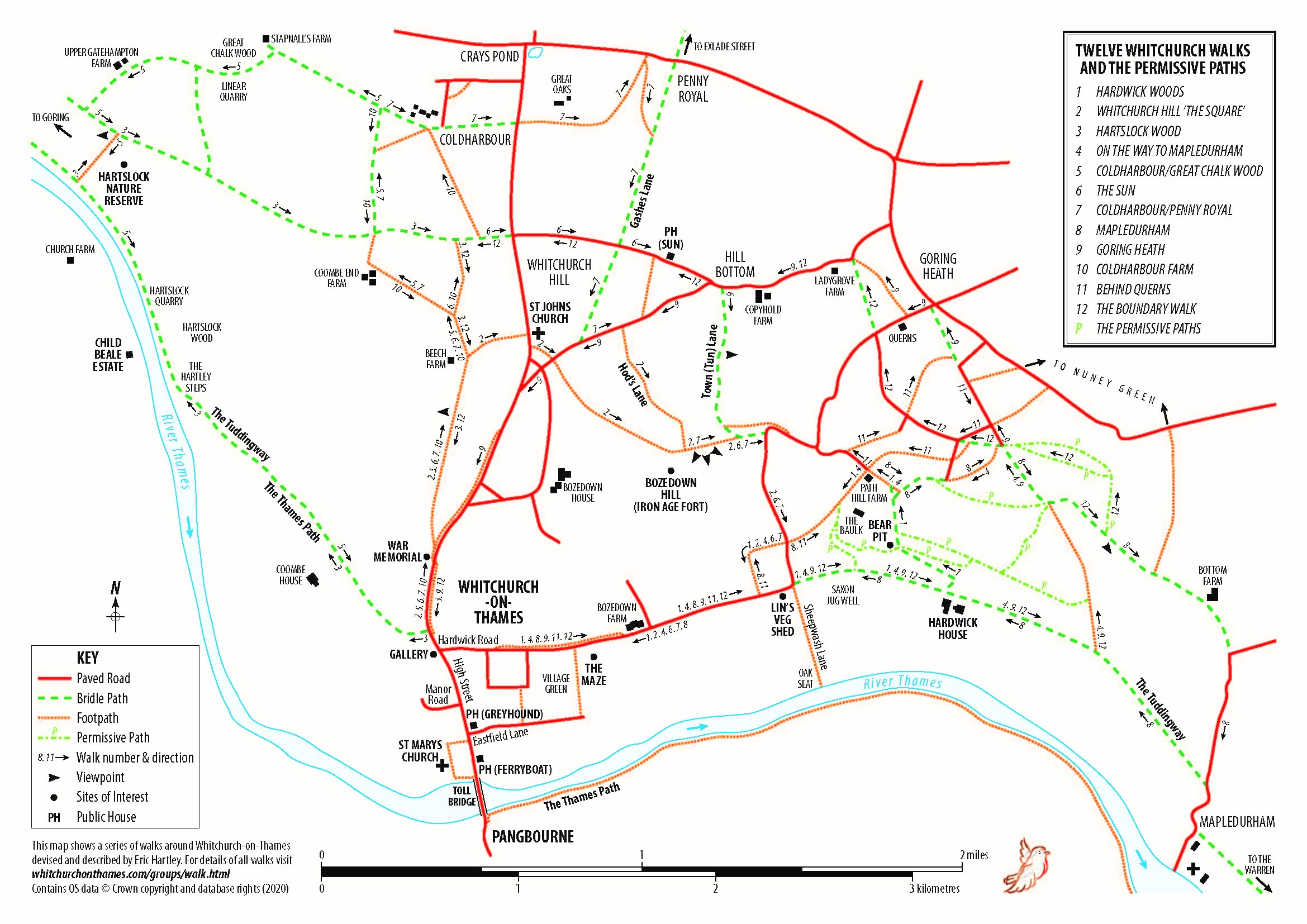 Click on the map for an enlarged view
Eric's Walks The walks shown on the map all begin and end in Whitchurch-on-Thames and cover some of the most beautiful countryside in England. They are devised and described by Eric Hartley who has chosen them to give walkers the fullest opportunity to appreciate the natural beauty of the area. There is also an introductory walk within the village of Whitchurch-on-Thames.
Choose a walk on the map above and then select the pdf file, which contains descriptive text and a map, from the links below.
Background
Eric Hartley arrived in the village in 1964 and published his first selection of walks in 1980. His popular booklet A Guide to the Walks around Whitchurch-on-Thames has passed through six editions. Now, newly updated 2020 editions of all the walks are available online and can be downloaded individually from this page.
In addition to the updated information in the walk descriptions, individual coloured maps have been created in 2020 for each walk, as well as the key map shown above.
Acknowledgements
As before, Eric dedicates these walks to his Yellow Labradors. Lass (1974-1988) and Holly (1986-2000) each walked over 15,000 miles with him on these and many other walks. He now adds Molly, who joined him as a rescue dog in 2014 and has already covered more than 7,000 miles.
Eric would like to acknowledge the assistance he has received and to thank those who have helped in the updating and preparation of this new online edition of the walks. Especial thanks to the person with special mapping skills who wishes to be referred to as a Whitchurchian.
Eric is willing to answer any queries, or offer advice about other walks in the area,
by email
.
He is hoping, before long, to republish the booklet A Guide to the Walks, alongside this new online edition, for those who prefer the information in a traditional form.


Page updated 24 November 2020