Allotment Society
WHITCHURCH AND DISTRICT ALLOTMENT SOCIETY (WDAS)

Invite you to take up allotment gardening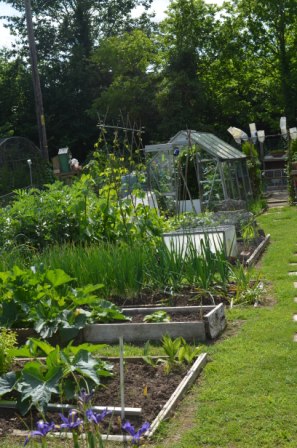 Have you ever thought about cultivating an allotment? If you have you may be interested to know that you can probably find what you are looking for not very far away at the WDAS site on the edge of the village at Muddy Lane – between Hardwick Road and Eastfield Lane.
The WDAS provides, subject to availability, a variety of plots for cultivation, both full and half size, at a modest annual rent. These can offer you the opportunity to:-

• Grow your own vegetables all the year round
• Derive satisfaction from applying differing cultivation methods and techniques to get the best out of your soil and offset your food bills
• Benefit from the knowledge and advice of more experienced plot holders
• Enjoy a healthy recreational activity in tranquil rural surroundings

Taking on an allotment might appear a daunting prospect but there are a number of simple ways to get started. These include:-
• Beginning with a smaller half plot
• Starting with a full size plot but cultivating just a part of it at first whilst the remaining parts stays covered by Mypex. This is a semi-permeable membrane which inhibits weed growth and is available from the society at cost price.
• Keep the digging to a minimum!

Rents are reviewed annually and for 2022 they are:-
Full plot £25, Half plot £13, Quarter plot £9.


To enquire about taking on an allotment, the current availability of plots or any other information please contact one of the following committee members:-
Chairman: John Coupland, tel 07397 778872 email
Secretary: Claire Jeffs, tel 0774 0289142 email
Treasurer: Leigh Surman, tel 07919 308655 email
Picture - Chris Martin