Village Green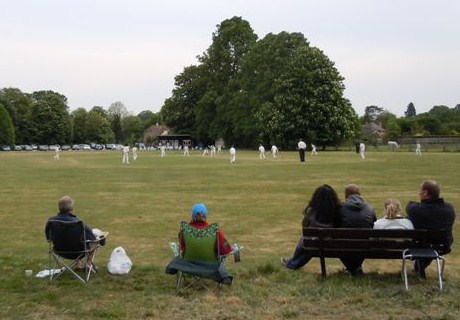 Whitchurch Village Green, situated in an idyllic setting at the end of Eastfield Lane, has a cricket pitch as well as a junior football pitch. It is home to the Whitchurch on Thames Cricket Club and there is a thriving juniors team, Pangbourne and Whitchurch Junior Cricket Club.
For ninety years, from 1921 to 2012, the land was the private property of the Whitelock family who generously encouraged its use for cricket. In 2012 Whitchurch Parish Council acquired it on behalf of the community, adding a car park and the junior football pitch. They also arranged for the sponsoring of new trees and bench seating by residents.
Management of the Village Green was initially in the hands of a Village Green Committee chaired by a Parish Councillor. Over time as the management and running of the Village Green has been established, the Parish Council has taken back this function in January 2015 as its direct responsibility. Jim Donahue heads a working group for managing the Green. The next project is to look at replacing the ageing cricket pavilion and tearoom with a more up-to-date Sports Pavilion for the community. Funding will need to be raised for this project, for which details will follow at a later date.
The Minutes of Village Green Working Groups can be seen here.
The Village Green Calendar, listing booked events, can be seen here. The Cricket Club fixture list is here.
To book the Village Green for your function or activity, or to make enquiries about the Green, please contact the Parish Clerk.
Village Fete, 2014