Church of St Mary the Virgin
Introduction from the Team Vicar in Whitchurch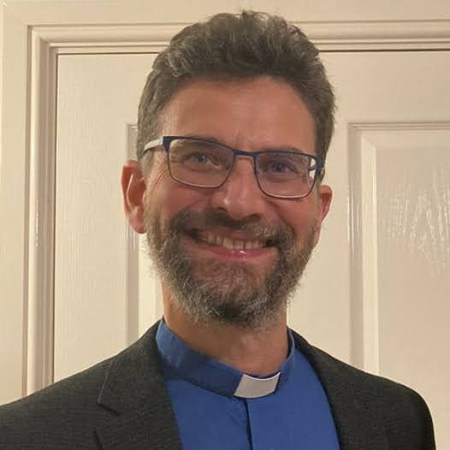 Hello!
As I take up my new role as Team Vicar in Whitchurch I'd like to take the opportunity to introduce myself and my family to you.
I was born in Dorset but spent most of my childhood and teenage years in Oxford. I grew up in a church-going Christian family and my years attending the church youth group and Christian Youth Fellowship Association (CYFA) ventures in the summer were especially formative for my faith. After a degree in Classics I spent seven years in various IT roles working for Shell, including a wonderful three year stint in Calgary, Canada. During my time in Canada I began seriously to explore the idea of full-time ordained ministry and that led eventually to being accepted to train for ordination at Wycliffe Hall, back in Oxford. My curacy was in Knowle, near Birmingham, where I stayed on to serve as Associate Vicar. After Knowle I moved to the parish church of Gerrards Cross and Fulmer in South Buckinghamshire to take up a new role focussing on adult discipleship. Helping people to live out their faith in the whole of their lives ("whole-life discipleship") has been important to me throughout my 21 years in parish ministry. Next year I hope to complete a part-time doctorate in Practical Theology that focuses on how Christians in so-called "secular" jobs make connections between their faith and their everyday work.
I am married to Debbie, who has recently started in a part time role as PA to the Rector of Marlow and administrator for the Wycombe Deanery. We have three children. Tim is a software developer in Cambridge. Nathan is entering his final year studying Portuguese and German, also in Cambridge. Bex has just begun a Level 3 diploma in performing arts, specialising in dance, at Abingdon & Witney College.
I'm very excited to be joining the community of Whitchurch as vicar in such "interesting" times. Covid-19 has changed the way that we do just about everything, including church, and no one knows what things are going tolook like in a month's time, let alone a year. But we believe in a God who is faithful, dependable and at work in his world, often in ways that are hidden. And so I'm looking forward to walking with you on the next stage of this journey and seeing what God will do next.
James Leach, November 2020
Our Church
The church in Whitchurch is a gathering of people who witness to the life and call of Jesus Christ. We seek to be a Christian family looking outward to bless our community with the love of Christ. We do this by gathering on Sundays and at other times in the week, to pray, learn and serve; and to find ways of communicating God's love to people in all walks of life.
Our historic church building, St. Mary's, is on the Thames path and sees many visitors come inside for a quiet moment, to be in a beautiful place where centuries of prayer and worship have taken place. Currently the building is open for private prayer twice a week but not for Sunday worship. For details see here.
In 'normal' times there's also a Community Coffee Morning, a Saturday Art Café, Lent Lunches and Lent Groups in The Old Stables Room on the High Street. A weekly prayer meeting, a ladies' bible study group and special services at all the major festivals are other ways in which we seek to witness to the reality of Christ amongst us. We're also there at major life events when people want to give thanks for a child, to mourn the death of a loved one or to begin married life.
The ecclesiastical parish of Whitchurch, consisting of the villages of Whitchurch-on-Thames and Whitchurch Hill, is part of the Langtree Team Ministry in the Diocese of Oxford.
Schedule of Services
Services for the time being will be on Zoom but we hope to reopen the church building for Sunday worship as soon as possible. For the times of services at St Mary's, Whitchurch on Thames and St John's, Whitchurch Hill please see here.
Baptisms, Marriages, etc
Please contact the Team Vicar, the Rev. James Leach, 0118 9765905 or email:
jamesleach.whitchurch@gmail.com
Tuesday Coffee Mornings
Every week in term time there is a Community Coffee Morning held in the Old Stables from 10:30 until 12 noon. (
Tuesday Coffee Mornings). All are welcome.
Saturday Art Cafe
Whitchurch's community Art Café opens each Saturday in the Old Stables bringing people in to chat with friends, raise money for a good cause and enjoy the art.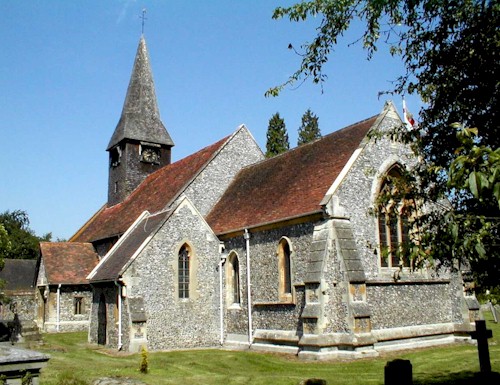 St. Mary's church, looking from the south
More views of the church are available in the Photo Gallery.
Links
Read the latest edition of the three-monthly Parish Magazine.
The Langtree Team Ministry has a website. There is also a Facebook page and a Twitter account.
The Oxford Diocese.
There is a history of St Mary's Church provided by the Langtree Team Ministry.
There is a background story of St Johns's Church, Whitchurch Hill, on our Village History page.
You can find photos of church related activities such as Remembrance Sunday and Christmas on the Gallery page of the main (village) website - thank you to all the contributing photographers.
Old Stables Meeting Room
In partnership with the diocese, we have a parish meeting room and office in the old stable block next to Rectory Cottage, Whitchurch on Thames. This facility allows small groups from the whole community to come together in attractive surroundings, as well as providing a venue for church meetings.
If you wish to book the Old Stables Meeting Room, please contact Geoff Weir at OldStablesBookings@btinternet.com.
Choir
Whitchurch has a proud choral tradition and three sung communion services are a regular part of our schedule every month. We have excellent Walker organs in both our churches and three regular organists to play for us.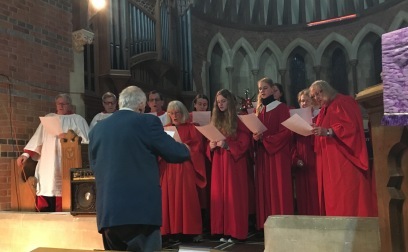 Although we only have 7 regular members of our Church Choir we aim to sing at all the Parish Communion services and other services as required. Several members of our Choir also sing with other Choral Societies in the area. We are very fortunate to be able to call on friends to assist us for special services including Weddings, special services and the various Church festivals such as Christmas. We would welcome any new members to the Choir especially those that can sing Soprano, Alto or Bass.
For further information please contact Kenneth Baker on 0118 9432778 or email: baker_kenneth2@sky.com
Children
Children are welcome at all our services. Twice a month (pre-Covid) at St John's, Whitchurch Hill (2nd and 4th Sundays) we enjoy Family Worship, with a small band and plenty of opportunity for interactive participation in worship. Most of our baptisms take place on 4th Sundays at All Age Worship, and we have outdoor worship in the summer, with a chance to picnic together on the green outside the church. We have strong links with the primary school through participation in assemblies and some RE sessions, and the children visit the church for RE and at Christmas.
Partnership for Missional Church
We have joined
the Partnership for Missional Church process - please see their website here.
Safeguarding
We have a Parish of Whitchurch (St Mary's and St John's) "Parish Safeguarding Policy
" - please see here.
Other Activities
Twice monthly daytime bible study group
Harvest Supper
Lent lunches and Lent Course
Weekly Prayer Group - contact 01189841262
Occasional Events in association with The Ferryboat Inn
Monthly All Age Worship service at St John's