Church of St Mary the Virgin
Latest News
Christmas Concert at St Mary's with the Ferryboat Brass on 1st December 2019.
Revd Kevin Davies, team leader of the Langtree Churches Team Ministry, writes:
"I am delighted to say that Revd Claire Alcock has been appointed as the next Vicar of the Parish of St John and St Stephen in Reading. Claire joined the Langtree Team as curate in 2010 and completed her training in 2013. Since then she has served in Whitchurch and around the whole Team as part time house-for-duty associate priest. She and Chris have contributed hugely to the development of the mission and ministry in Whitchurch and we will miss them both enormously. However, it is the right time for Claire to move to a full-time incumbency post and the opportunity offered by the Reading appointment was too good to miss. Claire and Chris will be moving out towards the end of the school holidays and Claire will commute back into the Team for her final fortnight of ministry with us. Her last Sunday services will be on September 15th." Church wardens Ken Baker and Sue Matthews have also said that they and everybody in the parish will be very sorry that Claire, her husband Chris and their children are moving on. They commented: "Claire has served us very well as our parish priest for nine years and will be sorely missed. We wish her well in her new post."
Our Parish
Welcome to the Church page of the village website. We're part of the Langtree Group of churches with our Rector, Kevin, living in Checkendon. Whitchurch is a House for Duty (part time) post which is currently vacant.
What is the Church for? A good question, particularly in the 21st Century when a lot of people are unsure of the role of faith in society.
The church is, simply, a gathering of people who are witness to the life and call of Jesus Christ. We seek to be a Christian family looking outward to bless our community with the love of Christ. We do this by gathering on Sundays and at other times in the week, to pray, learn and serve; and to find ways of communicating God's love to people in all walks of life.
St Mary's is on the Thames path and sees many visitors come inside for a quiet moment, to be in a beautiful place where centuries of prayer and worship have taken place. You are more than welcome - the church is open in daylight hours. Our main morning services alternate between St John's 'up the hill' (11am) and St Mary's 'down the hill' (9.30am).
There's also a Community Coffee Morning, a Saturday Art Café, Lent Lunches and Lent Groups in The Old Stables Room on the High Street. A weekly prayer meeting, a ladies bible study group and special services at all the major festivals are other ways in which we seek to witness to the reality of Christ amongst us. We're also there at major life events when people want to give thanks for a child, to mourn the death of a loved one or to begin married life.
Schedule of Services
For the times of services at St Mary's, Whitchurch on Thames and St John's, Whitchurch Hill please see here.
Tuesday Coffee Mornings
Every week in term time there is a Community Coffee Morning held in the Old Stables from 10:30 until 12 noon. (
Tuesday Coffee Mornings). All are welcome.
Saturday Art Cafe
Whitchurch's community Art Café opens each Saturday in the Old Stables bringing people in to enjoy the art, chat with friends and raise money for a good cause.
Parish
The ecclesiastical parish of Whitchurch is part of the Langtree Team Ministry in the Diocese of Oxford led by the Team Rector, the Rev. Kevin Davies. It consists of the villages of Whitchurch-on-Thames and Whitchurch Hill.
Baptisms, Marriages, etc
Please contact the Team Rector Rev. Canon Kevin Davies, 01491 680252 or email:
revkevdavies.langtree@yahoo.co.uk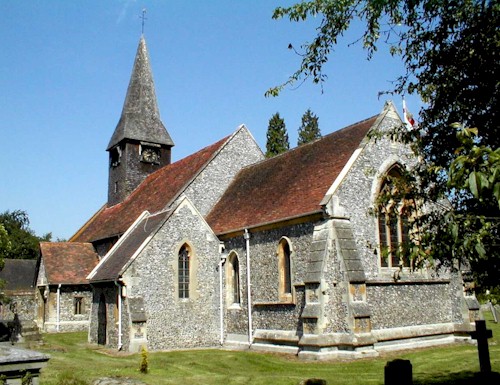 St. Mary's church, looking from the south
More views of the church are available in the Photo Gallery.
During the Interregnum other team clergy and lay members maintain regular services at our two churches: St Mary's, beautifully situated by the river in Whitchurch, and its sister church St John's, next to the green at Whitchurch Hill. You are warmly invited to attend services at either Church, whatever your denomination. The clergy, choir and congregation alternate between them in accordance with the schedule of services.
Read Kenneth's Letter of Welcome.
Links
Read the latest edition of the three-monthly Parish Magazine.
The Langtree Team Ministry has a website. There is also a Facebook page and a Twitter account.
The Oxford Diocese.
There is a History of St Mary's Church provided by the Langtree Team Ministry.
You can find photos of church related activities such as Remembrance Sunday and Christmas on the Gallery page of the main (village) website - thank you to all the contributing photographers.
Old Stables Meeting Room
In partnership with the diocese, we have a parish meeting room and office in the old stable block next to Rectory Cottage, Whitchurch on Thames. This facility allows small groups from the whole community to come together in attractive surroundings, as well as providing a venue for church meetings.
If you wish to book the Old Stables Meeting room, please contact Sue Matthews on 0118 984 4489.
Choir
Whitchurch has a proud choral tradition and three sung communion services are a regular part of our schedule every month. We have excellent Walker organs in both our churches and three regular organists to play for us.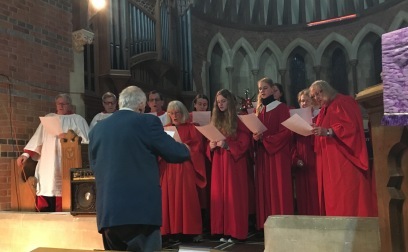 Although we only have 7 regular members of our Church Choir we aim to sing at all the Parish Communion services and other services as required. Several members of our Choir also sing with other Choral Societies in the area. We are very fortunate to be able to call on friends to assist us for special services including Weddings, special services and the various Church festivals such as Christmas. We would welcome any new members to the Choir especially those that can sing Soprano, Alto or Bass.
For further information please contact Kenneth Baker on 0118 9432778 or email: baker_kenneth2@sky.com
Children
Children are welcome at all our services. Twice a month at St John's, Whitchurch Hill (2nd and 4th Sundays) we enjoy Family Worship, with a small band and plenty of opportunity for interactive participation in worship. Most of our baptisms take place on 4th Sundays at All Age Worship, and we have outdoor worship in the summer, with a chance to picnic together on the green outside the church. We have strong links with the primary school through participation in assemblies and some RE sessions, and the children visit the church for RE and at Christmas.
Partnership for Missional Church
We have joined
the Partnership for Missional Church process - please see their website here.
Safeguarding
We have a Parish of Whitchurch (St Mary's and St John's) "Parish Safeguarding Policy
" - please see here.
Other Activities
Twice monthly daytime bible study group
Harvest Supper
Lent lunches and Lent Course
Weekly Prayer Group - contact 01189841262
Occasional Events in association with The Ferryboat Inn
Monthly All Age Worship service at St John's