Buses, trains and taxis
Bus Service 142 - Going Forward Buses
Leaves Whitchurch using old 143 bus stops at 7:50 (not Saturday), 10:02, 12:27 and 15:22.
Leaves Reading from Blagrave Street bus stop EO/EP, see here, at 8:50 (not Saturday), 11:20, 13:50, 16:20.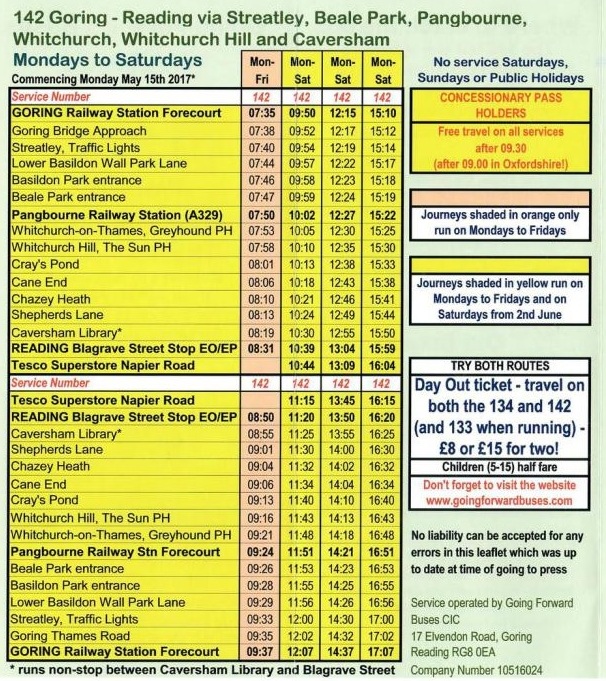 See here for more details. There is also a Saturday Service. This service runs from Goring to Pangbourne, to Whitchurch, Crays Pond, Caversham, Tesco and the centre of town and back again.
Bus Service 143 - Thames Travel
Thames Travel's revised 143 bus service, from Pangbourne to Reading without crossing the river to Whitchurch, started on Monday 3rd July. A Thames Valley statement can be read here. The new timetable is here.
Trains
London Paddington - Reading - Oxford local services, operated by Great Western Railways, call at Pangbourne Station, which is 5 - 10 minutes walk from Whitchurch-on-Thames.
Trains run about half-hourly - journey times are about 10 minutes to Reading, 30 minutes to Oxford and 1 hour to Paddington.
See the live departure board at Pangbourne Station
Taxis
Here is a useful link which gives a list of registered taxis, insert your postcode and it will give local taxi firms.