News Archive
Tony Voysey has died (updated again)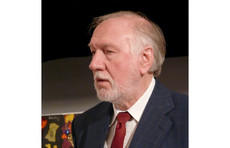 Tony Voysey, well known Whitchurch resident, died yesterday (Sunday 19th March). He was 84. He was taken ill suddenly in the morning and died later in the Royal Berkshire Hospital. The arrangements for a funeral will be announced in due course.
Tony, who lived in the High Street, was an active member of the Whitchurch community, involved in various roles in the Church, Riparians, History Society, Theatre Club, Whitchurch Society, Bowls Club and Bridge Club. He was also a volunteer fundraiser for the RNLI for 50 years. Last Friday he was playing in a charity bridge drive in Goring and on Saturday he was at the Art Café.
Tony's wife Joyce died in 1999. He is survived by his son John and his daughter Linda.
(Photo by Nick Brazil)
Update, 31st March, an announcement by the family:
The funeral will be held at St Mary's Church, Whitchurch, on Tuesday 11th April at 1.30 pm. The service will be followed by tea and cake in the Old Stables (next to the church) while we as the immediate family attend a private committal at the crematorium.
Family flowers only, please. In the light of Tony's 50 years' service as a volunteer fundraiser for the RNLI, we ask that any donations in lieu of flowers are sent to the funeral directors: Coop Funeral Care at 75-81 Southampton Street Reading RG1 2QU, or direct to the RNLI, mentioning Tony's name.
We very much hope that the service will be a celebration of Tony's long and full life. Please feel free to wear whatever you are comfortable in; black is not obligatory.
All are welcome - however, to give us an idea of the numbers to cater for please let Linda know that you plan to attend, via email by 6th April. Thank you.
We look forward to seeing you on 11th April. Any queries, please email Linda as above.
Linda, John, Carol, Paul, Ian and Erin
Date/Time : Monday, 20th March 2017 19:14
Would you like to get to know some alpacas?
Mary-Jo Smith of Bozedown Alpacas is planning to offer members of the public the opportunity to take a walk with the animals. Each visitor would be invited to lead an alpaca. For this plan to work she wants to recruit some members of the local community to act as guides to small groups of visitors. Here is what she says:
Do you have a few hours to spare at least once a week? Would you like to get to know alpacas better? Would you like to guide small groups of visitors leading alpacas around our farm?
If so, come and see what's involved, learn the basics and have a go on Tuesday 21st March at 2 pm. If you are interested and can't make the 21st, please still get in touch.
Call or email me - Mary-Jo
maryjo@bozedown-alpacas.co.uk, 0118 984 3827, or 07718 750 303.
Date/Time : Thursday, 16th March 2017 12:21
High Street given a new seat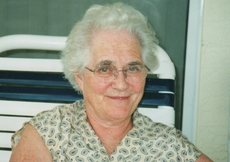 Behind the new flower beds at the entrance to Church Drive an elegant wooden seat has recently been installed, carrying the inscription 'In Loving Memory of Pockets Remington, 1923-2016'.
Some people may be wondering who Pockets was and how she got her name. She is shown in the picture. The seat has been kindly donated to the village by her husband Stan Remington, 90, who lives in The Walled Garden House nearby. Here he tells us something about his late wife:
Pockets was born Isabella Morrice, to a farming family in a croft in Aberdeenshire. Breaking the family tradition, she was determined to be a nurse. However her height was under five feet, which prevented her from being accepted by the Royal Hospital in Aberdeen, and she joined a children's hospital instead. Here a rather large sister, on meeting her, said her size was such that she would fit in her pocket and she became known as Pockets, a name which she adopted. She became a state registered nurse in 1948, the first year of the National Health Service.
I met her in the Prince of Wales hospital in Tottenham where she was caring for my brother who had suffered a rugby injury. We were married in 1954. Happily the marriage stood the test of time and we celebrated our diamond anniversary in 2014.
We moved to Whitchurch in 1980, by which time our daughters Shirley, a doctor, and Sylvia, in pharmaceuticals, were already grown up. I worked in book publishing in London. Pockets was a much loved mother and grandmother to our daughters and our three granddaughters, two of whom have also become doctors. (Photo when they were young.) In Whitchurch she was an active member of the Women's Institute and found time for her great interests of needlework, embroidery and gardening.
She died peacefully with me beside her in the Royal Berkshire Hospital on 14th March 2016, aged 92.
Date/Time : Tuesday, 14th March 2017 16:58
Local girl aims for the Olympics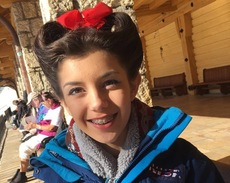 Emily Brown, 15, from Hill Bottom in Whitchurch Hill, has always wanted to be an ice skating champion. Last year she and her partner James won a silver medal in the British championships. Her sights are now set on selection for the 2018 championships in Bulgaria, with a later ambition towards the Olympic squad. Her story is told in this article in the Henley Standard.
Emily recently received a grant from the Whitchurch United Charities, to be used towards her tuition and choreography fees. Sally Woolhouse, treasurer, said that Emily's parents are making considerable sacrifices to enable their daughter to achieve her goal and the trustees agreed to support her efforts. Generally the charity supports educational needs but at the end of the recent half-year year there was money unallocated, enabling trustees to take a broader view.
Whitchurch United Charities traces its history back to a legacy of £1 made by Augustine Knapp in 1602. More about it here.
Date/Time : Wednesday, 8th March 2017 17:48
New bus route chosen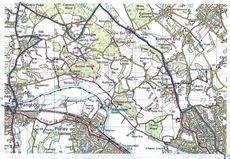 The Going Forward Bus company has decided on a route for the minibus that it hopes will be replacing the 143 bus service after July. The minibus will provide a service into Reading for a number of communities in both Berkshire and Oxfordshire. The route is shown in blue on this map. The minibus will start from Goring, go past Basildon Park and Beale Park, then through Pangbourne, Whitchurch, Crays Pond, Goring Heath, Kidmore End, Caversham and into Reading. The service will return along the same route.
Dave Bowen, the parish councillor coordinating Whitchurch's input into the planning of the new service, says that Mike Ward of Going Forward Buses is now thinking about the timetable and particularly about the first and last services. He would appreciate comments from likely users as to whether there is any demand for an early bus into Reading for the start of the working day and also for a later bus for coming home from work. Comments should be sent to Dave Bowen.
Date/Time : Monday, 6th March 2017 18:23
New landlord at The Greyhound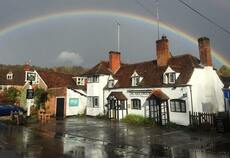 Andy Prior, who has been chef at The Greyhound for the last five months, said yesterday on the pub's Facebook page: "It is with great pleasure that I announce that I am the new landlord at The Greyhound, Whitchurch on Thames. Please bear with me during the transition while I sort out card machines etc. No food this week, but feel free to drop in for a bite to eat from this Saturday. I look forward to seeing you soon!"
The new landlord joined the pub last October, recruited by his predecessor Ray Cameron, who had re-opened the pub two months earlier. Before that Andy spent five years working at The Rowbarge at Woolhampton. Ray left the village earlier this week.
Andy will be assisted by part-time barman Robin and has announced a special event for the evening of Saturday 18th March, a 70s-80s Disco with free admission.
Date/Time : Thursday, 2nd March 2017 16:15
MOWS adds colour to the High Street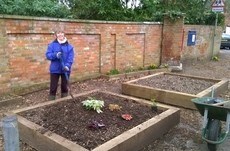 Signs of planting by the volunteers of Make Our Whitchurch Special (MOWS) are now evident. The photo shows Leslie Meynerd with some of the shrubs sponsored by the parish council.
Leslie said she wanted to thank that those who helped in the recent work: her husband David, Andy Heaps, Geoff Weir and Sally Woolhouse. She would love to see some volunteers, perhaps even some new faces, turning up to assist her in laying a membrane for further planting at 10.30 next Saturday morning, 4th March.
Parish chairman Keith Brooks said today: "When the display at the entrance to the church is finished it will be a credit to the village and a demonstration of how residents give up their spare time to keep Whitchurch a wonderful place to live in. The Parish Council on behalf of the village would like to thank those who put themselves out to do this good work."
Date/Time : Tuesday, 28th February 2017 16:15
Call for volunteer bus drivers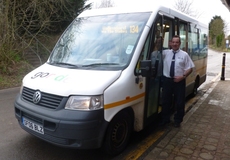 Have you always wanted to drive a bus? An opportunity is coming soon when the 143 bus service is replaced from July this year by a new minibus service run by Going Forward Buses, a community interest company based in Goring. The company is run by Mike Ward, who has recently started running replacements for Goring's 133 and 134 services. He now needs to buy a second minibus and recruit more drivers to replace our 143 service. Whitchurch and Goring Heath parish councils are jointly working with Mr Ward to get this up and running.
Whitchurch parish councillors recently agreed to pay £4,125 to West Berkshire Council as part of the village's share of the 143 bus subsidy, which continues until July when it is hoped that the new local service can start. Councillor Dave Bowen explained that "as Going Forward Buses is a not-for-profit based company its expenses are somewhat less than Thames Travel's, so it should be more viable."
Full details of the requirements for volunteer bus drivers to help in running the new service can be found on the Going Forward Buses website under Could you help by driving occasionally? .
Date/Time : Thursday, 23rd February 2017 12:35
Whitchurch to help Pangbourne keep loos open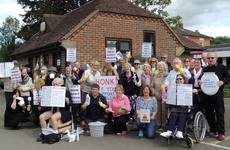 On 13th February Antoinette Solera and Mike Fellows, representing the Action for Pangbourne Toilets Community Trust (APTCT), told Whitchurch parish council about their progress towards re-opening the public toilets in the Pangbourne village hall car park. They said they had received pledges of £4,000 from local residents and a grant from Pangbourne parish council of £3,000 towards their £10,000 target. Whitchurch councillors voted unanimously to donate a sum of £750.
The APTTC trustees issued this statement yesterday:
There is lots of good news to report as we move steadily towards our goal to re-open Station Road Toilets.
Our application to the Charity Commission was successful, so APTCT is now a fully registered charity. Our official charitable status means we can now work on agreeing the 99 year lease agreement with West Berkshire Council and setting up our bank account - in the coming weeks we will be in touch with donors who have generously pledged financial support.
Meanwhile both Pangbourne and Whitchurch-on-Thames Parish Councils have kindly agreed to grant a donation to our re-opening fund. This means we are now much closer to our initial target of £10,000 to partially re-open the building (the single cubicle and the disabled toilet) and to pay for cleaning and maintenance for 12 months.
Recently residents may have seen contractors carrying out works at the toilet block. West Berkshire Council has carried out some essential health & safety work, redecoration and basic repairs which will help us to ensure that the toilets, once re-opened will provide a clean and safe environment for visitors.
We look forward to announcing the re-opening of the toilets as soon as we can - and if you would like to pledge a financial donation or offer practical help, please contact us at actionforpangbournetoilets@gmail.com .
…………………………………………………………………………………………………………
Dog fouling in Whitchurch
On a (loosely) related subject, the parish council also discussed the problem of dog mess on footpaths and green spaces in our village. A video of a dog-fouling incident had recently been given to PCSO Mark Bell, who would be speaking to the dog owner concerned. Councillors agreed to purchase ten dog-fouling signs for display around the village, to remind owners of the importance of clearing up after their pet.
Date/Time : Tuesday, 21st February 2017 16:44
Litter cleanup on Saturday 4th March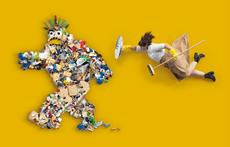 Whitchurch will be taking part in the Great British Spring Clean on the first weekend in March. The parish council has decided to back the nationwide campaign led by Keep Britain Tidy and has registered the village.
Parish council chairman Keith Brooks is looking for volunteers to spend a couple of hours picking up litter around the village, starting at 10 am on Saturday 4th March. Litter pickers, sacks, gloves and high visibility jackets will be available. Volunteers are invited to contact him for further details.
Keith says: "I look forward to hearing from you. Let's make this a success in Whitchurch!"
Date/Time : Wednesday, 15th February 2017 10:26
Primary School wins sports award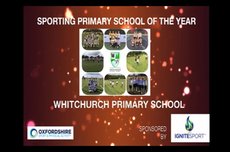 Whitchurch Primary School has been awarded the accolade of SPORTING PRIMARY SCHOOL OF THE YEAR in the 11th annual Oxfordshire Sports Awards. The event was organised by Oxfordshire Sport & Physical Activity (OxSPA).
Whitchurch beat runners-up Larkhill Primary and Wantage Church of England Primary. More information here.
OxSPA, a partnership run by Oxfordshire County Council, states that its vision is to make Oxfordshire the most physically active county in England by 2017.
Date/Time : Saturday, 28th January 2017 16:29
An alternative to the 143 Bus is in sight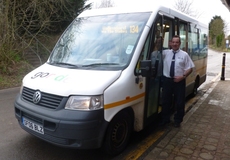 The parish council has been discussing the replacement of Thames Travel's 143 bus service with a minibus service to be run by a recently formed Community Interest Company (CIC) based in Goring. The company is Going Forward Buses, which is currently preparing to take over the running of another service, the 134 from Goring to Wallingford.
Parish councillor Dave Bowen provided this update to Facebook users yesterday:
"Yesterday evening, Keith Brooks, myself and Peter Dragonetti from Goring Heath PC met with Mike Ward from Going Forward Bus's CIC which Mike has set up as a Community based Bus Company with a view to Going Forward running a community based bus in place of their current 143. As a Not for profit community based company Going Forward are able to recoup 100% of the average fare of OAP and Disabled concessionary pass holders from the County Council where as a commercial company, such as Thames Travel are only able to recoup 30% of the fare. Coupled with the not for profit concept this makes running the bus much more viable and would almost certainly reduce any subsidy the Parish Councils would need to pay.
From last night's discussion there are various routes that Mike would be keen to look at. Essentially the Bus would start at Goring, run through Basildon past Beale Park to Pangbourne. From there it would cross the bridge and up to Goring Heath, past the Sun and White Lion at Crays Pond. From there it would go through Tokers Green, Kidmore End and into Reading. This would provide the quickest route to Reading however other routes may provide more usage by passing through other villages. Timings on this route are comparable to the current 143.
An alternative route could take in Woodcote and Stoke Row, and another alternative could see Henley rather than Reading as the final destination. Mike is very keen to provide a service in other areas that have been left without a bus. The Henley suggestion would allow for connections to Oxford and Reading using the X40 from Woodcote so Reading is still a destination.
We have discussed hours of running and it seems that the peak morning and evening services of around 8 am and 6pm are not particularly financially viable so we are looking for feedback whether this is something people do use.
In terms of route we would very much like to hear your feedback on routes to assist Mike in which route may be viable. Would people be keen to change buses for a service to Oxford and Reading so we gain a Henley Service or perhaps a fast direct route to Reading would be preferable?"
There is an explanation of CICs, limited companies which operate to provide a benefit to the community, on the Going Forward Buses website.
Update 24th January: The Henley Standard today published an article on the subject.
Date/Time : Friday, 20th January 2017 14:21
Village hall to be refurbished, not sold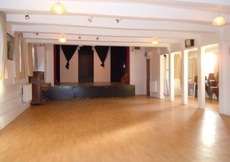 The parish council has decided to invest in improvements to the present village hall in Manor Road. The scheme put forward early last year (news archive, 25.3.16) to sell it off, build affordable housing on the site and invest the proceeds in a new combined village hall and sports pavilion on the village green, is not being pursued.
The reason is a legal condition in the agreement under which the village hall was sold by SODC to the parish council for a nominal sum many years ago. The agreement gives SODC the option to buy it back for a mere £4,000 in the event of a sale. The estimated £550,000 sale proceeds would not be available for the construction of a new combined building on the village green.
The parish council decided at a meeting earlier this month (draft minutes on the Parish Council page) to have the condition of the village hall professionally assessed in order to plan a programme of improvements.
As a separate project, the design of a new sports pavilion on the village green will be considered again by the village green working group, which includes representatives of the cricket club and other interested parties. The parish council will be investigating the availability of grants.
The parish council is asking to hear from anyone who is interested in helping with the management of the village hall, which is registered as a charity. Please email parish clerk Felipa House to express interest or to hear more.
Date/Time : Friday, 20th January 2017 14:12
Two M4 motorway bridges need repair
Highways England has announced that two bridges supporting the motorway near Bradfield, between Junctions 12 and 13 of the M4, are suffering from chloride-induced concrete corrosion. Repair work will start in mid-February, taking around seven months and involving weekday overnight closures and three full weekend closures of the motorway. Dark Lane and Ashampstead Road, which pass under the motorway, will be closed for about two months.
There is more information here.
The picture above shows a similar bridge elsewhere.
Date/Time : Monday, 16th January 2017 19:21
Skateboarding area for children requested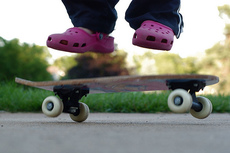 A 13-year-old girl wrote to the chairman of the parish council last month asking for a place to be provided for skateboarding. Yesterday her mother Maureen O'Brien, who lives in Old Gardens, persuaded the parish council that the idea should be seriously considered. She said that it was vital for young people to have outdoor opportunities as an alternative to screen time and suggested a location on the village green between the cricket nets and Muddy Lane where she felt it should be possible to install a skating ramp and perhaps also a basketball net.
There was support from councillors for the idea in principle, but recognition that it might not be universally popular. Jim Donahue, deputy chairman, pointed out that a village survey had shown 23% support for a skateboard facility and 55% for a basketball net.
Maureen offered to put together a detailed proposal with costs and it was agreed that this would be considered at the next council meeting.
Maureen said she would like anyone who wished to make suggestions, or to support the idea, to contact her by email.
Date/Time : Tuesday, 10th January 2017 16:18
Activities for young families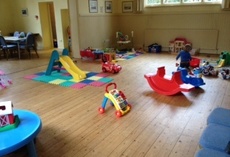 The Whitchurch Web today has a new feature designed to help parents of young children to find play groups in the Whitchurch area. Laura Lucas, who has a young child and lives in Swanston Field, has compiled two lists, one of free drop-in sessions and the other of payable ones. Babies, toddlers and pre-schoolers are all catered for.
Laura's lists can be seen by visiting the Schools and Young People page (menu on the left), third paragraph down, where two links will be found.
As an introduction to the lists, Laura focuses below on two local playgroups, one well-established and one brand new:
Tots on the Hill (pictured) is a long-running playgroup within the village of Whitchurch Hill. "We warmly welcomes parents, carers and their pre-schoolers to join us for our weekly stay-and-play sessions, which take place at the Goring Heath Parish Hall (there is plenty of parking in the adjacent car park). Sessions run on Wednesdays during term times, between 10-11:30am, and include free play with our wide range of toys suitable for babies and pre-schoolers, a healthy snack, and a song time. And, of course, tea, biscuits and good company for carers as standard! Each session is priced at £2 per adult & child, with an additional 50p per extra child, and newcomers are made very welcome. For further details, please contact Emily Dalton at emilydalton@outlook.com."

Next week sees the start of a new, local playgroup for pre-school aged children. The Little Ducklings toddler group will be run by 2Wild (www.2wild.co.uk) on Fridays 10-11.30am at Path Hill Farm, Goring Heath. Although 2Wild have been providing outdoor activities for adults and children for some years, this is their first group aimed at preschoolers. Children will explore nature, sing songs and play in the great outdoors. Facilities include yurts for inclement weather! The group is already proving popular, so please pre-book on 984 2500 to avoid disappointment! Tea and coffee for adults and a snack for little ones included. £5 per child and sibling discounts available.
Date/Time : Friday, 6th January 2017 12:50